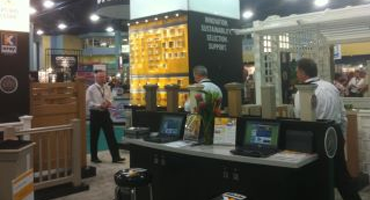 in Early 2012, all the major players in the fencing industry were in Miami, Florida, at the FenceTech 2012 expo.
FenceTech, as stated in their 50th anniversary brochure, provides a great opportunity for buyers to effectively evaluate equipment, tools, and accessories. Connect with over 4,000 fence, security, deck, railing, architects, and government professionals with real purchasing power!
Kroy, a world leader in Fence products, wanted to bring their expo presence to the next level. Boasting a large 20 x 50 booth with some of the most innovating products in the fencing world, wasn't enough.
Kroy came to Farin Innovations, Inc. knowing its powerful experience in helping clients of all shapes and sizes innovate in their industry. Kroy had a unique idea, and knew the one company capable of executing it with great precision – Farin Innovations, Inc.
What was dreamed up by Kroy, was a Website Builder, that would dynamically build websites on the go. Kroy wanted to offer FREE websites to any of their dealers or contractors that sell Kroy products, and didn't just want any cookie cutter website for their dealers. Instead, Kroy wanted dynamic web 2.0 websites with a full content management system and admin panel.
Farin Innovations, Inc. exceeded Kroy's expectations and within 90 days of the commitment, had launched a dynamic website builder that allows contractors and dealers to choose a template that represents their company, choose the modules that they would like in their website, choose which Kroy products they wanted to feature, and buy a new domain.
At the FenceTech Expo in Miami, FL, Kroy had a technology corner that featured branded stools and two laptops allowing new contractors and dealers to get a new website for their company on the spot.
Farin Innovations, Inc. has been helping clients of all shapes and sizes innovate in their industry since 1999. Boasting a powerful portfolio consisting of state of the art web design, web development, and online marketing projects, Farin Innovations, Inc. is standing by ready to help you!